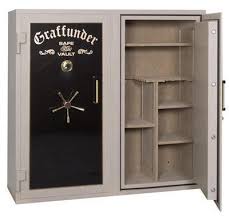 Rogue Safe Co. was founded in 1997, after a personal search for a quality home safe turned into something more. Founder & owner, Knute Klingerman, had a hard time finding the quality of home safe he was seeking. After much research and "homework", Knute bought what he felt was the best safe on the market at the time. He eventually opened shop and became a dealer and distributor for many of the top safe manufacturers out on the market today. Over time, Knute noticed the quality of many safes to be declining; likely a result of outsourcing and cutting costs at the manufacturing level.
Unfortunately, there is a huge difference between storage and security. Determined to make a better product, Rogue Safe Co. introduced their own line of safes. Each safe is built one at a time, and Knute is hands-on to insure the quality of each custom-designed safe (you can customize the size, interior layout, color, hinge-side, number of doors or locking compartments, etc). Custom safes can be ordered with no deposit, no money down, and no obligation to buy. The goal is always to deliver a safe that will be everything the customer expects and more. Each safe is 100% American Made. Rogue Safe Co. is proud to distribute customized top of the line true safes from Graffunder and American Security, as well as Custom Rogue Safes superbly and specially constructed to Rogue Safe's stringent quality standards by American Security Products.
For return customers, there is 100% trade-in value towards upgrades. In addition to a quality product, Rogue Safe offers their customers something invaluable; a true education on safes. Regardless of whether or not people leave with a safe, they always leave with a wealth of information from which to base a decision when safe shopping. If you are shopping safes based on price, you don't need a safe. The price of your safe is not nearly as important as the price of what you want to protect. Knute's mission is to provide outstanding service with an outstanding product, and to never compromise on quality. In his own words, "I really believe in what we do, and the great product we offer."
Using the finest grade of available steel comprising 90% of the overall weight as opposed to up to 50% of the overall weight with most competitors' models. Additionally, Most of the Rogue Safe Co. Fire safes are equipped with a 1" thick, 2300 degree Heat Rated ceramic wool blanket to protect your valuables from heat. There are no sharp outside corners. You can have your door hinges placed on either side to take advantage of maximizing accessibility. You will find our tolerances are significantly tighter than most of the competition.